Model Boat Convention 2009
DAVE ABBOTT reports on this brilliant event at Birchwood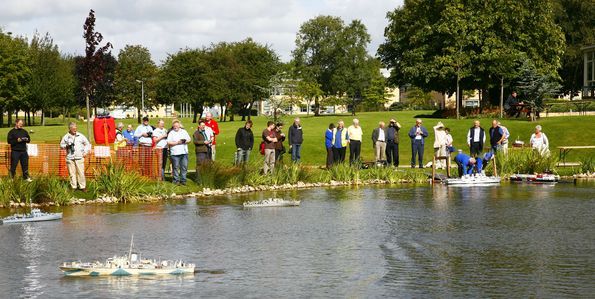 Yet another August Bank Holiday weekend came around and the popular Model Boat Convention held at The Centre, Birchwood Business Park, Warrington, Cheshire, opened for the two days of Saturday 29th and Sunday 30th prior to the Monday public holiday. Jean and Arthur Barlow plus the organising committee put on a super weekend of indoor and outdoor model boat entertainment. Each year there is a theme and this year it was 'Warships' and who better than our Range Finder columnist Dave Wooley to officially open the weekend.
The Convention
The opening demonstration on the outside lake was performed by the Scottish warship modellers with a sail-past of naval vessels. These lads really do know how to enjoy themselves and entertained the public and modellers who were at the lakeside for the opening ceremony.
The show was both indoors and outdoors and the inside bit was well supported by a large number of model boat clubs, mostly from the northern part of the UK and there were also a fair number of trade stands in attendance including Mountfleet Models, Scoonie Hobbies plus many others selling tools, batteries, model boat kits and all the bits and pieces that modellers need.
Article continues below…
Advert
On each day a small portable pool was used for the encouragement of youngsters, both boys and girls, to compete on a small regatta course with prizes which were donated by Scoonie Hobbies. The youngsters seemed to enjoy the sailing and they must be encouraged as they are the future of our hobby.
As usual, the models were judged by an expert panel of judges and the results were announced at the prize giving on the Sunday afternoon at the end of the show. One very proud young man who received the junior award was Adam Holmes with his model of HMS Bermuda which was an outstanding warship model and a great opportunity to see that we do have up and coming youngsters coming into our hobby.
Conclusion
Article continues below…
Advert
The club stands were the largest number that I have seen over the past few years and the standard of the models seems to be getting better each year. There was good trade support from across the model boating spectrum. Excellent organised use of the outside lake resulted in a never ending display of model boats creating a lot of interest for both the general public and modellers. This popular show was very well supported this year and I understand that the 'feet through the doors' and competition numbers were well up on 2008. Please check the press and the website forums for details of next year's event. Visitors should note that there is free parking, decent refreshment and toilet facilities and seating areas both inside and out.