John Parker explains the historical significance of these Australian riverboats, trips on which are a hugely popular tourist attraction today, and the prospects for modellers…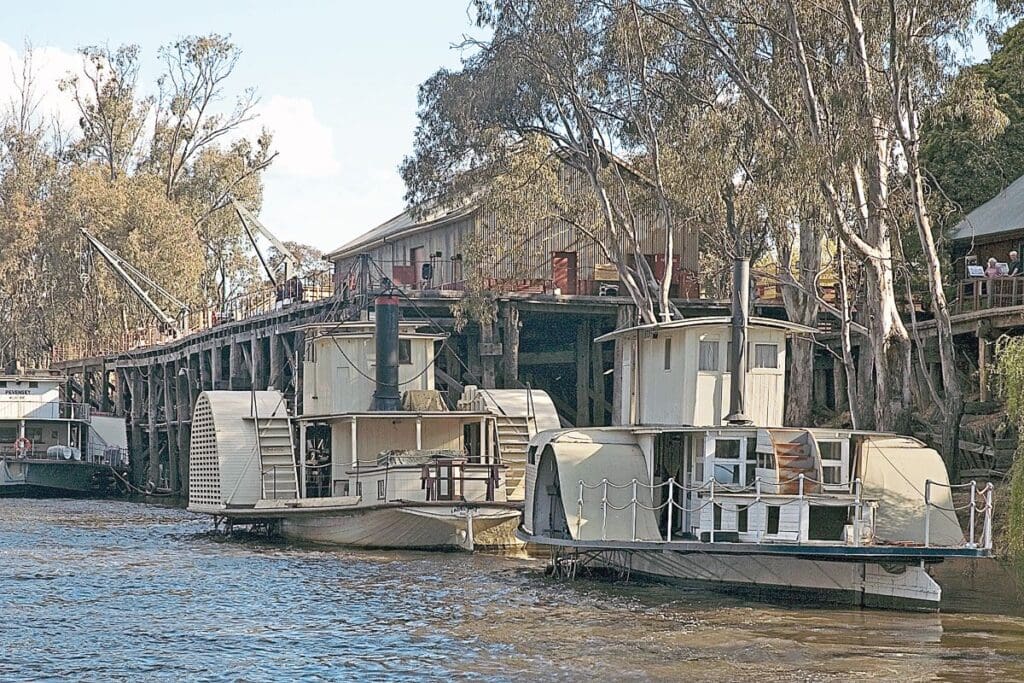 The Murray is Australia's longest river, running 2,508 kilometres westwards from the Australian Alps, where it forms the border between Victoria and New South Wales, and then south-westwards to reach the sea near Goolwa in South Australia. Flowing through much of the country's fertile farmland, its potential to form an important transport link was obvious as western settlement opened the land up in the 19th century. The river craft that evolved to take advantage of this liquid highway were well adapted to local conditions, and thus unique to this part of the world.
Riverboat design
The Murray has no sea entry (the mouth is usually silted up) and no minimum depth can be guaranteed. The flow sometimes dries up completely in times of drought and is only fast in times of flood; water taken for irrigation has made matters worse. So, a shallow draft was the first requirement of any river vessel, and paddle wheel propulsion was another, because it was more manoeuvrable and wouldn't get damaged easily like a propeller would in shallow water. A large, flat load area was required with a high piloting position for visibility over it. The structure had to be rugged and simple, able to be made with the crude facilities available in sawmills along the river. The engine (steam, of course) similarly had to be basic and easily maintained by unskilled hands. It would be fuelled by redgum logs, of which there was a plentiful supply.
Putting all these requirements into the mix resulted in the classic Murray River paddle steamer, of which a surprising number survive today in restored form. Looking at one of them lumbering along, it's obvious that aesthetics was never high on the list of design requirements. The materials are more farmyard than nautical and there is a near complete absence of the curves that aficionados of nautical design can normally take for granted. Never mind, they got the job done.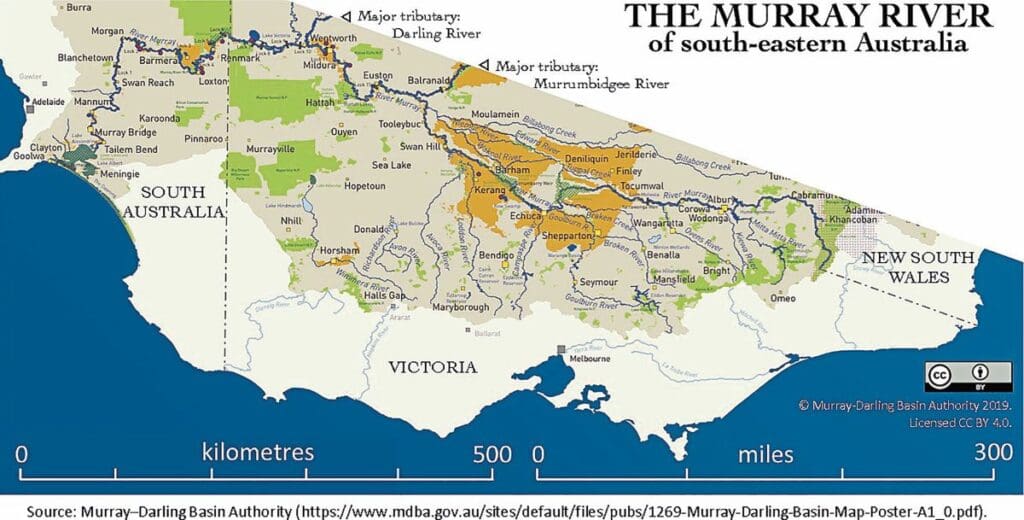 Not that they did it with any great speed. Most could manage only about 4 or 6 knots and with the current of the river running at 2 to 4 knots it made for walking speed progress upstream, all the while having to dodge floating logs and other hazards. Downstream was another matter – they could then be drifted without the help of the engine and perhaps better their speed. The paddle wheels were fixed, non-feathering types, and large rudders hung off the stern for steering, swung by chains from the wheelhouse. The ten to 20 horsepower steam engines would typically consume one tonne of redgum (a dense, durable local timber) a day, churning the paddles at some 30 rpm.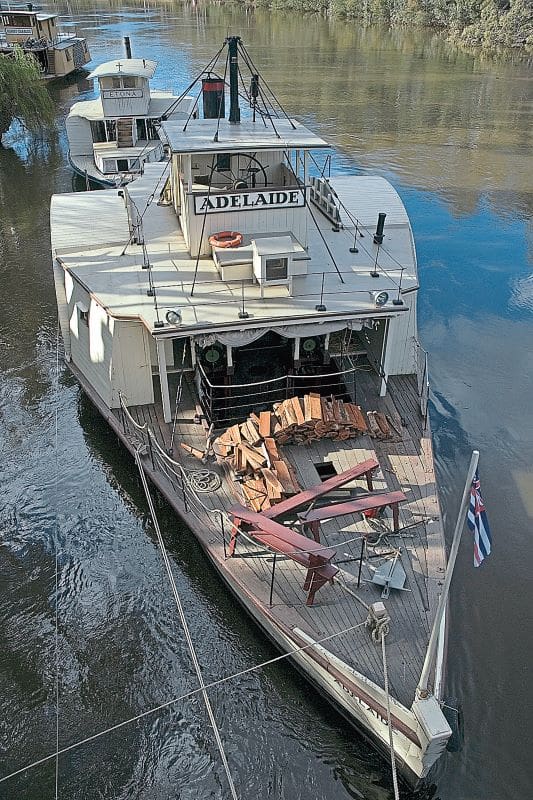 Port of Echuca
The Port of Echuca, at about the Murray's closest point to Melbourne, was founded in 1855 and grew to be a thriving establishment until about the end of century, when better road and rail links began to take business away from the large fleet of paddle boats that had been put into service. The cargoes consisted of all the things needed for a growing population in a big country: wheat, livestock, timber and wool predominated. Some boats continued to operate into the 1950s, but the port was in serious decline by then.
Today it forms a popular tourist destination, offering river cruises on the largest fleet of paddle boats in the world. Much of this resurgence stemmed from the making of the period television drama All the Rivers Run in 1983, which introduced many to a little-known era of Australian history and made possible the restoration of the waterfront and some of its vessels. The PS Pevensey was the star of the series, renamed the Philadelphia for the purpose of filming.
The wharf at Port Echuca is 400 metres long, and four storeys high in order to accommodate the huge range of river levels. At the time of my visit, heavier than average rains had swollen the river to levels that had not been seen for many years. On a cruise upriver, I stood alongside the wheelhouse and watched the captain swing the huge wheel from side to side. It didn't look too hard. But then I noticed the hydraulic steering motor that was taking his inputs and applying them via chains to a stern rudder the size of a barn-door. It may even have been a barn door. To do this all day as it was done originally without power steering must have proven a real workout and explained why the wheel was so large.
The following are some of the boats that may be seen at Echuca today…
PS Success
Built by G.B. Air for Westwood and Air in 1877, the Success worked cargoes mostly of timber and wool along the Darling and Murray rivers, with a spell working as a passenger boat from Swan Hill to Mildura in 1915-1916. In 1956, it was the last paddle steamer to carry wool along the Darling and Murray rivers. Currently under restoration at Echuca, the Success is 82ft 7ins (25.2m) long by 16ft 5ins (5m) beam and was originally fitted with a 25 HP McCall and Anderson steam engine.
PS Alexander Arbuthnot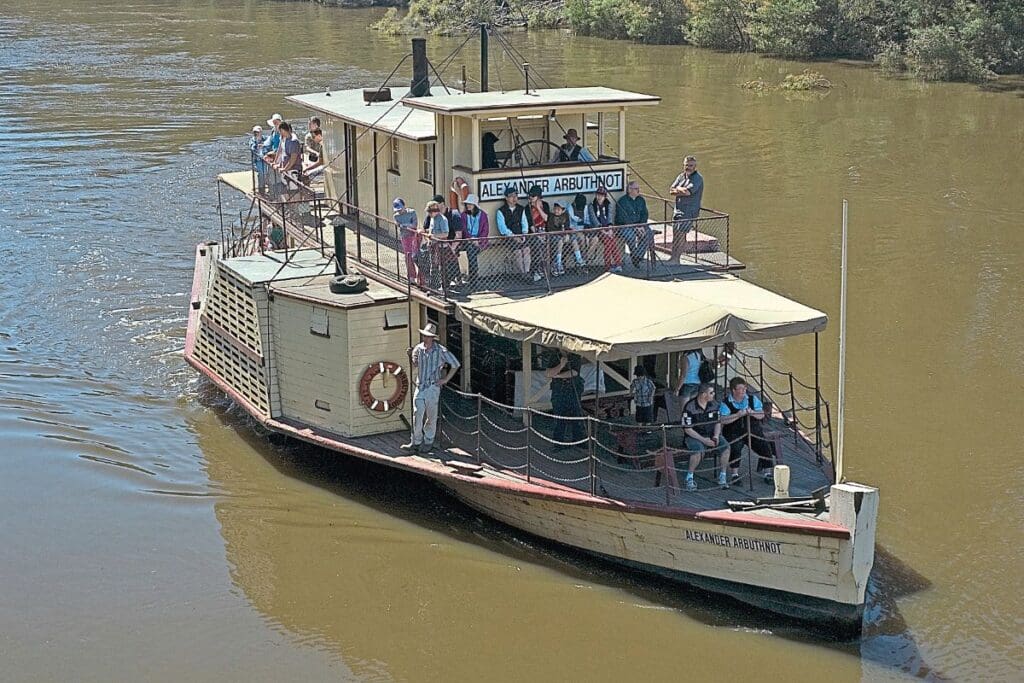 This was the last steamer to be built on the Murray, by Koondrook Sawmill in 1923. After lying disused during World War II, she sank at her moorings in 1947 but was raised again in 1972. Brought to Echuca in 1989 and restored, she now provides regular river cruises for a maximum of 47 passengers and is available for charter. She still has her original steam engine built by Ruston and Hornsby of the UK.
PS Pevensey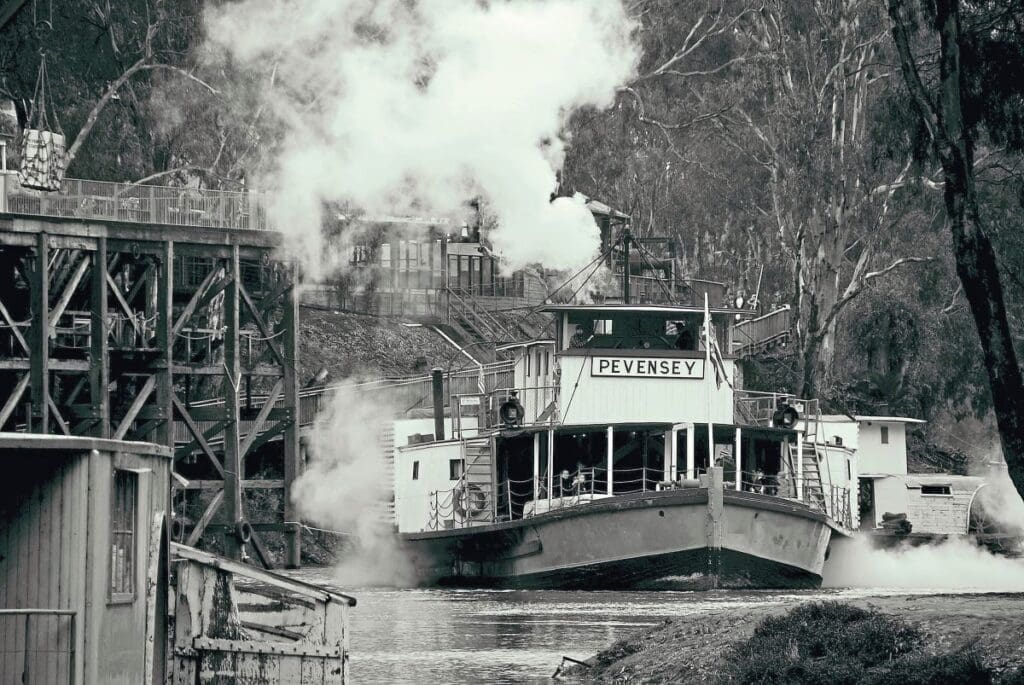 The Pevensey was restored at Echuca in 1976, appearing in the TV mini-series All the Rivers Run in 1983 as the PS Philadelphia. Built in 1911 at Moama and powered by a 20 HP high pressure steam engine, the boat is 111ft 5ins (33.9m) long with a 23ft (7m) beam, displaces 136 tons and can reach a speed of 4.3 knots. She provides regular river cruises alongside the Alexander Abuthnot and can accommodate up to 100 passengers for charter work.
PS Emmylou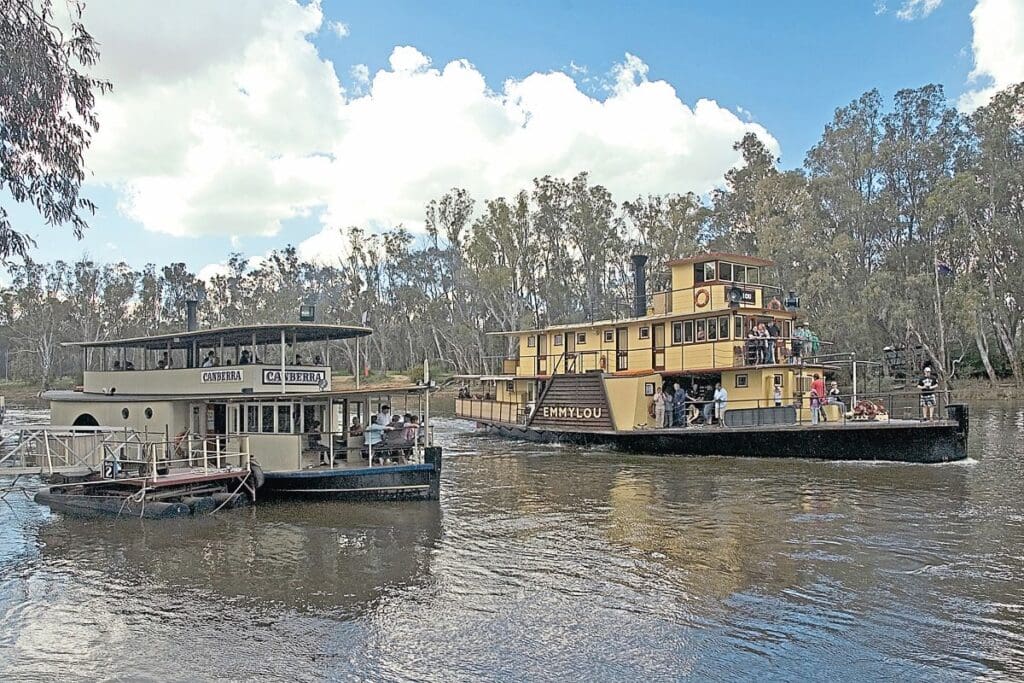 This modern vessel was built 1980-1982 in the style of the 19th century paddle steamers but powered by a restored 1906 Marshall and Sons steam engine. She has a timber-decked steel hull of 30m x 10m. Providing day and night cruises with fine dining, along with the PS Canberra and Pride of the Murray, she forms the fleet of the Murray River Paddlesteamers company.
PS Canberra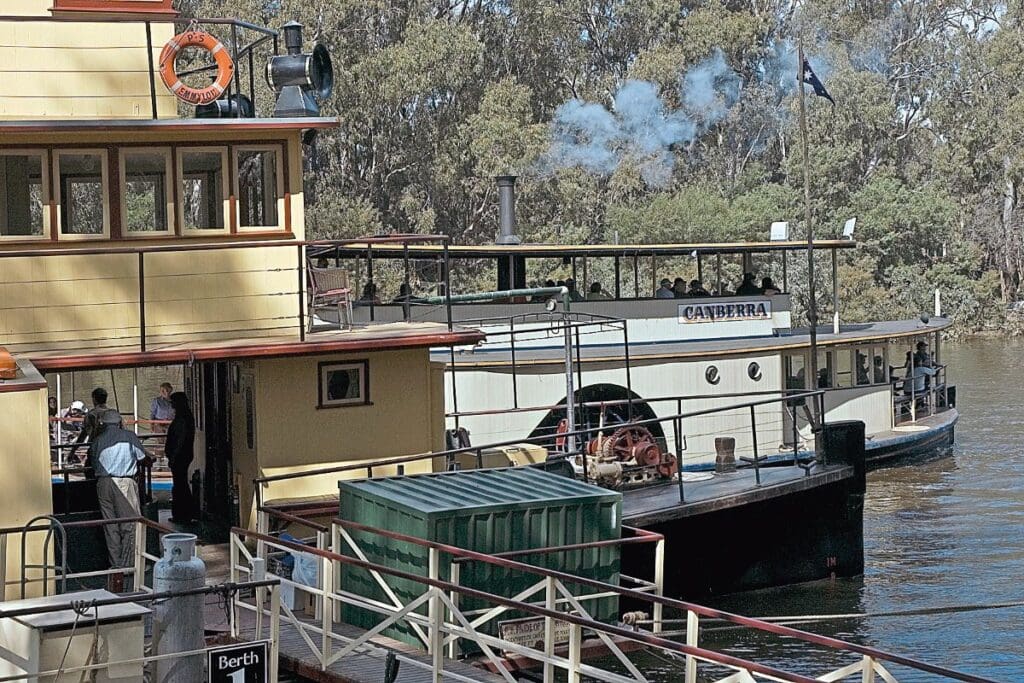 Built at Goolwa, South Australia in 1912, the Canberra was originally a fishing steamer but received a promenade deck and was fitted out as an excursion boat in the 1940s, operating out of Mildura. She has operated from Echuca since the 1960s and was fully restored in 2003, receiving a 1923 Marshall steam engine, which can be viewed in operation from the upper deck area. She is available for cruises or charter.
PS Pride of the Murray
This vessel actually began life as outrigger barge number C24, built by the Murray River Sawmills in 1924. Barge work usually involved a tow upstream. followed by an unassisted return downstream, dragging chains to help provide steerage. Restoration began in 1973, transforming the barge into the paddle steamer Pride of the Murray, and she now offers working cruises and can be chartered for special events.
PS Etona
The Etona dates back to 1898, having been built as a Mission Boat or 'church steamer' to provide Church of England services to developing river towns that did not yet have their own churches. Later she was used as a fishing steamer and served again during the 1956 floods. She is now privately owned, has been restored and is based at Echuca.
PS Adelaide
The oldest operating wooden-hulled paddle steamer in the world, the Adelaide was built in 1866 as a passenger vessel but converted to a logging steamer in 1873. She towed barges to the Barmah Forest, where they were loaded and drifted back to Echuca. Restoration commenced in 1980 and was completed in 1985.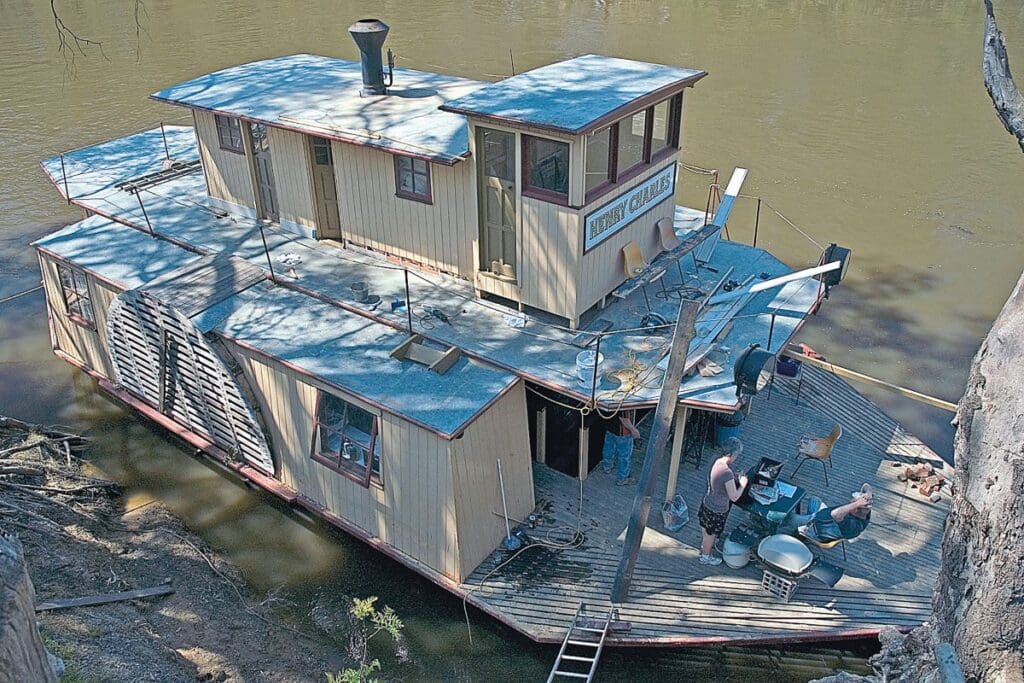 Modelling prospects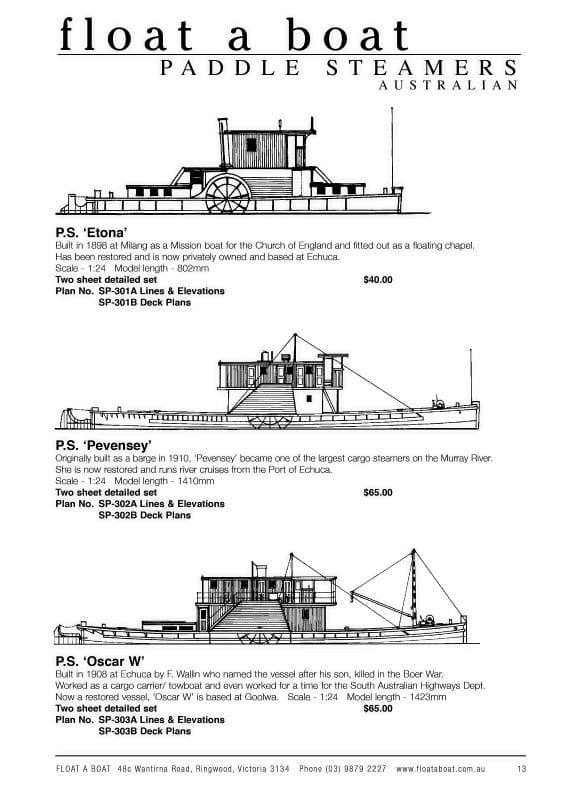 These boats make popular modelling subjects in Australia for several reasons. They are uniquely Australian for one, and the basic nature of their design doesn't place great demands on the modelmaker's skill. In fact, any slight imperfections are likely to add to, rather than detract from, their authenticity! And there is plenty of scope to adorn them with dummy cargoes, hard-working crew members and rustic detailing. Powering them is not a problem with either a geared electric motor or simple steam engine. It's important to remember, though, that they are shallow freeboard riverboats with high superstructures that will catch the wind and are therefore unsuited to open waters in anything but calm conditions.
The best source of plans is probably model boat specialist Float-a-Boat in Melbourne (www.floataboat.com.au), whose catalogue provides several pages of inspiration, one of which is illustrated here.