The 2013 Model Boat Convention
DAVE WOOLEY reports from Haydock Park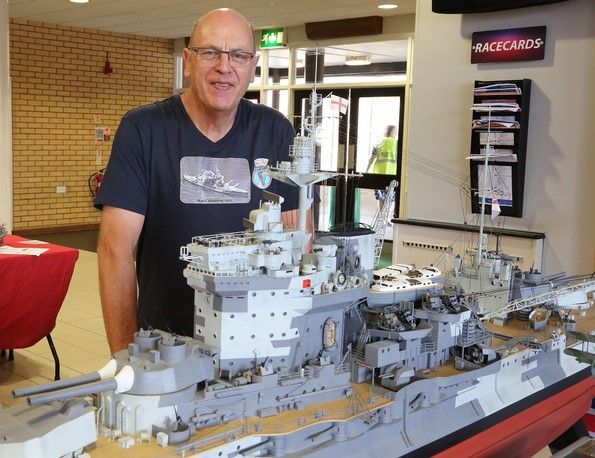 This is now one of the longest running events of its type, not just in the UK but in Europe. It has built up a good reputation for its efficient organisation and the facilities, but above all is well regarded for the quality and ingenuity of the club displays together with good and varied trade support, plus of course the supreme excellence of the competition entries. For the first time since the UK held the Naviga European Championships of 1975, a UK event attracted visitors and competitors from the Russian Federation of Ship Modelling Sport, and what fantastic and outstanding models they brought with them.
Haydock Park is just off the M6, south of Manchester and it has free parking, excellent personal facilities and the show is held in the largely carpeted exhibition centre which has a wood-panelled entrance area from which the various rooms used for this 24th Model Boat Convention, could be accessed. Thirty clubs, some individual exhibitors and more than 20 traders supported the event, including Colin Vass with his remarkable 1:72 scale HMS Warspite.
The event
The Guest of Honour for this year's event was Commodore Dickie Baum RN, Naval Regional Commander Northern England and he officially opened the Convention. He was accompanied by the Deputy Lieutenant of Merseyside, Dr. Nicholas Jedynakiewicz, and both were welcomed by the President of the Convention Committee, who is Paul Freshney, Editor of this magazine. It is worth mentioning that the event is organised and run by modellers for modellers and is non-profit making, any surpluses going to charity. The Secretary of the Committee is Jean Barlow, and where we would we be without her sterling efforts year-on-year? The theme for 2013 was Pleasure Craft and one of the ideas of having a theme, is that the supporting clubs incorporate the theme within their displays. There were nearly 800 models on display at this 2013 Convention, and I think you would hard put to find that number elsewhere in the UK at a similar event.
Notably on that subject, there were a pair of superbly built models of modern styled powerboat craft by Ian Povey, including all the lavish internal detailing. Ian had scratch built both models using his own GRP mouldings, with a little inspiration from those seen at Intermodellbau in Germany. Another (unusual) model was a concept design by Derrick Jones from the Bury Metro Club, built entirely from balsawood, with a wave piercing stem and a not easy to achieve perfect white surface finish. There were also more traditional powerboats reminiscent of sports cruisers of the 1950's. There is a rise in interest in these craft with vendors such as the Vintage Model Boat Company doing a brisk trade over the two days.
There were many other models following the theme of the event and amongst them was an evocative model of the King George V, a much loved passenger turbine steamer built by William Denny in 1926 and displayed on the Scottish Model Warship Association stand. Yes, they don't just build warships!
Alan Taylor on the Southport MBC stand had a lovely steam model based on the Borkum hull, but including extras such as a tea urn and small tool chest and over on the St. Helens MBC stand was an aptly named steam launch, Puffin Billy 2.
Trade support
For 2013 there were 22 traders with a vast selection of products to satisfy even the most demanding of modellers. These traders included, amongst others: Adrian's Figures (ex-George Turner Models); Michael McGinn's wide selection of small calibre naval guns and fittings at various scales; Macs Mouldings with yet more fishing boat fittings including figures and new for 2013, Chylds Hall Model Shipyard run by Steve Pickering who is well known for his late-Victorian era torpedo boat models.
Competition
The entry was the highest it has ever been at 67, up from 45 in 2012. and the quality was outstanding. Judging is by a panel of well respected model boat builders led by Dave Abbott, himself a Gold Medal winner at the Model Engineer Exhibition
Scratch Built Models
It is difficult to single out any one model as nine achieved very high scores and deservedly so, but at the Convention there is only a first place in each class, so Colin Vass made it a clean sweep for himself, with his 1:72 scale HMS Warspite achieving First in the category and the President's Award. However, the Robin Woodall Memorial Trophy for the Best in Show Award, selected by the exhibitors, went to Vladimir Churilin of the Russian Federation of Ship Modelling Sport with his magnificent model of the American side-wheel river steamer, Natchez. For those that were unable to attend the Convention I would like to comment on this particular model. Each and every item, including the stays and rigging, was made from wood and all the figures were hand carved, each with their own facial features and expression.
The Russian team also entered some model ships in bottles which are a regular feature of Naviga events, but are seldom seen in the UK. Another extraordinary fine model, that of a small Russian torpedo boat, was constructed in a style more reminiscent of how museum models were presented, with bare metal such as brass being used throughout, but left unpainted.
Semi Scratch Built Models
First place was taken by Ray Scrivens with his well-known model of the HM Royal Yacht Britannia. This model looks better every time one views it, as more and more detail is noticed.
Kit Built Models
Vladimir Makarichev took first with his incredibly well finished model of HMS Dreadnought at 1:700 scale and second with his 1:700 scale model of the Imperial Russian armoured cruiser Rurik. The original Rurik was completed in 1909 and was not built in Russia, but at Vickers, Barrow in Furness, and the vessel was considered to be the finest armoured cruiser afloat at the time.
Other awards
Best Mountfleet Model was won by Joe Lilly with his model Lady Patricia. The Diorama award went to Mark Hawkins with his model, aptly named 'Prepping the Shag Bat'. The Junior award went to Ian Holms of Kirklees MBC with his model of USS Melvin. It's always good to see junior participation and especially when they are as keen as Ian to do their very best. Best Tug in Show was awarded to Alexander Bogdanov (from Russia) and his ASD tug 3111 Smit Loire. In addition to the foregoing, there were as always, awards for the best model on each club stand, a nice way of rewarding the members of the clubs who do so much to support this annual event.
The Russians came!
Having a discussion with them (they all spoke reasonable English), I asked what had prompted them to make such a long five day journey by van to the UK. The answer was that they wanted to know more about ship-modelling in the UK by having direct participation in such a prestigious event. They have long respected the skills of UK modellers in the building of model ships and have often wondered why we as a maritime nation, having a strong model shipbuilding tradition, don't participate in the Naviga European and World Naviga Championships for scale model boats. The group included the Chairman of the Federation of Ship Modelling Sport of Russia who wanted to see firsthand how we in the UK promote the hobby, which in Russia and Eastern Europe is regarded as a sport.
Many years ago I was directly involved with Naviga as a regular participant in competition and in establishing some of the rules of classification. From that position I can understand why they wished to know more, as they see modelling, first and foremost, as a sport or contest with a winner, something perhaps we in the UK tend not now do. The main impression the Russians went away with was the sheer size of this 24th Model Boat Convention and the understanding that it is but one of a number in the UK. In Russia, as in the USA, travel distances can be a deterrent for potential participants and maybe the organisers, hence perhaps fewer events.
Our Russian guests certainly departed the UK with a better understanding of what British model boating is about, and in many ways that is very much our style of doing things, putting the enjoyment of displaying and sailing first, and competition modelling second.
Conclusion
Once again the Model Boat Convention hit a high note and probably the highest ever. Its organisation is efficient and the volunteer supporters work very hard at making the event 'work'. 2014 will be the 25th Convention in the series and no doubt will be an even greater success. The Model Boat Convention website is: www.modelboatconvention.co.uk and will be held on Saturday 23rd and Sunday 24th August 2014. Contact details are on the website and I understand already a significant number of clubs and traders have rebooked for 2014.
(Acknowledgement: A big THANK YOU to Dave Abbott for supplying many of the pictures you see here.)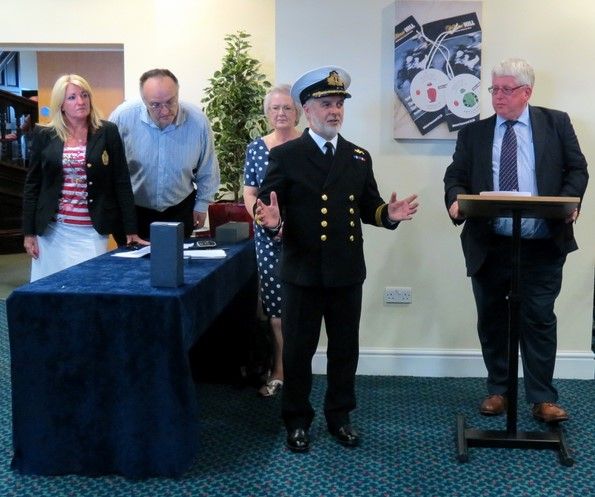 Paul Freshney (right), President of the Model Boat Convention with Commodore Baum at the closing ceremony and prize giving. Behind the Commodore is Jean Barlow, Secretary of the Convention, and to his right is Debbie Lowndes, daughter of Captain Woodhall, the last master of the QE2 and Guest of Honour in 2002, but who has sadly now passed away.